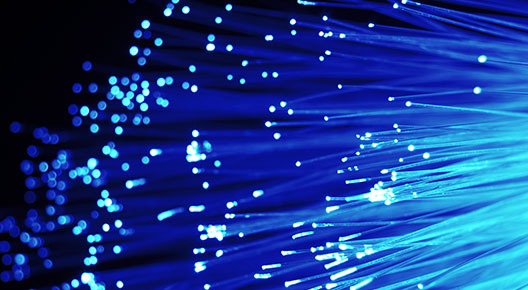 Not only are fiber optics inexpensive when compared to other data transmission means, they also boast exceptional technical features and characteristics, such as a decreased, smooth attenuation over a larger frequency area, which in turn enables the transmission of significant amounts of data at a very high speed. In addition, fiber optics are impervious to electromagnetic disturbances and interferences, thus ensuring unrivaled levels of reliability and stability.
In fiber optic networks, lasers transform the electrical signals emitted by communication devices into optical signals. Fiber optics then transmit this data at the speed of light. In addition to being robust and reliable, fiber optic data transmission systems offer the best performance to date.
Various fiber optic network architectures (FTTx):
FTTx (Fiber to the x) is a generic term that includes all types of wideband network architectures (very-high-speed data transmission) that use fiber optics. These architectures provide for a closer connection between the fiber optic network and the user. This way, it is possible to increase the quality and speed of the service. There are many FTTx-type configurations, where "x" stands for the location where the fiber ends.
FTTH (fiber-to-the-home): the fiber optic reaches the inside of residences.
FTTB (fiber-to-the-building, -business, or -basement): the fiber optic reaches the inside of buildings (e.g. the basement of an apartment or commercial building).
FTTN (fiber-to-the-node, -neighborhood, or -last-amplifier): the fiber optic ends in an exterior box located in the clients' neighborhood (generally, over 300 meters away) and its end connections are made of copper. FTTN networks are often installed as a temporary solution prior to the installation of a complete FTTH (fiber-to-the-home) network.
FTTC (fiber-to-the-curb, -closet, or -cabinet): its architecture is similar to that of an FTTN network, but the FTTC network's outdoor box is located closer to clients (generally, less than 300 meters away).
FIBER OPTIC NETWORK DESIGN
Groupe Conseil Génicom offers a wide array of consulting services for the design of fiber optic transmission and distribution networks, such as the production of architectural and merging schematic plans.
The design phase is key to building a reliable, robust, stable, and fast fiber optic network. Our experienced team boasts state-of-the-art expertise in designing various types of fiber optic networks. We will design your fiber optic network according to the FTTx architecture that best suits your network infrastructure upgrade program.
PERMITS AND RIGHT-OF-WAYS
Installing new telecommunications infrastructures requires authorizations from supporting structure and/or building owners, as well as municipal and/or provincial stakeholders.
Groupe Conseil Génicom always complies with current standards, codes and regulations when obtaining permits and right-of-ways. As part of our design activities, we negotiate with building owners on behalf of our clients to get the authorizations needed to install their networks.

"Take advantage of our expertise, just like some of the biggest telecommunications service providers in Quebec!"